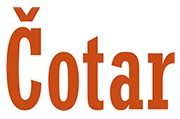 The fascinating Kras is a plateau between the Vipava Valley and the Bay of Trieste, the origin of the Karst landscape denomination used across the world. It is a land filled with passion – rocky and wild, yet to us locals cultured and familiar.
The Čotar family estate with its vineyards and wine cellar lies in the western part of the Kras, in the village Gorjansko just 5 km from the sea. Extensive family tradition aside, our current farm grew from the foundations up. Some 40 years ago, in 1974 to be exact, we dug our cellar's first chamber into living rock, making wines for the family restaurant, Teran and Kraško Belo, a white blend typical of Kras. Our first wholesale bottle, the vintage 1988, was bottled in 1990. A year prior, we had built the cellar's second space, upgrading with a third in 2002.
Vines
We are an organic farm committed to nature friendly winegrowing on our sites Pečina, Olarija, Dražna, Dusce, Polje, Kot, and Ivanji grad, totaling 7.5 ha in surface. Here, vineyard planting entails clearing the forest, airing the bedrock and depositing the soil.
Varieties
Refosco, Cabernet Sauvignon, Merlot, Malvasia Istriana, Sauvignon Blanc, Vitovska.
Our wines are recognized by their fingerprint labels, expressing our confidence in pristine Čotar quality, distinctive character and personality. The fingerprint is the winemaker's symbolic signature.
From the grapes to the bottling and ageing, our wines descend deeper and deeper into the cellar. The length of maceration (contact of must with the grape skins) depends on the vintage and decision of the winemaker. Fermentation takes place underground, in barrels from 200 to 2000 litres, spontaneously without the introduction of selected yeast. Until its first decanting, our wine rests on the lees without any added sulphur.
The wines mature in wine-soaked oak barrels of various sizes: whites a minimum of two years, reds between four and five. We don't filter our wines and don't consider sediment a wine fault.